Welcome to Sydney Premium Fishing Charters Cronulla based on the beautiful Port Hacking River approx. 20min by road south of Sydney airport. We arrange fishing charters from Port Hacking, Botany Bay or Sydney Harbour.
We cater for GROUPS and INDIVIDUALS and will do everything we can to ensure our passengers have an enjoyable and comfortable experience whilst on board our purpose built flybridge fishing vessel 'Game Fisher'.
We specialise in Deep Sea Fishing (Reef & Sand), Sports Fishing, Game Fishing, Shark Fishing.
Some of the more common fish species we catch are:
Snapper, Perch, Flathead, Leather Jacket, Morwong, Kingfish, Australian Salmon, Mahi Mahi, Tuna, Marlin, Mako Shark, Tiger Shark, School Shark, Blue Shark and more……
If you are not sure what style of fishing may suit your requirement, please don't hesitate to call to further discuss.
Instructions:
What to bring: Test
What is included: Test
Sydney Premium Fishing Charters Cronulla
http://www.sydneypremiumfishingcharters.com.au
Contact Email
[javascript protected email address]

Contact Number
0409468292
Contact Address
Cronulla Ferry Wharf, Tonkin Steet, CRONULLA NSW 2230
Departure Location
2 Tonkin Street Cronulla Nsw
Melbournes Fishing Charter Pro Red Fishing Charters with Skipper Jayson Turner having over 40 years fishing Experience making Jayson 1 of the best Fishing Charter operators in Melbourne . Fishing Charters Melbourne and Fishing Trips around Melbourne. Catching Big Port Phillip Bay Snapper to 11Kg and Big Kingfish and Big Sharks and Thumping King George Whiting and Squid and many other varieties of Melbourne Fish. Also Portland Southern Bluefin Tuna . Jayson will as aways be trying his hardest to catch you that Fish of a lifetime and have a Fun memorable day in the process
So For Snapper Fishing Trips Melbourne or King Fish Charters Melbourne ,Gummys Sharks , Whiting and Squid – Well give us a try.
Our vessel. 25ft plate alloy – twin Honda fourstrtokes and state of the art Lowrance Electronics and safety gear exceeding Survey requirements as well as Top quality Shakespeare Rods and Shimano and Penn Reels
Snapper Charters Melbourne – 5 Hr Trips 5am – 10 am , 10 am – 3 pm , 3 pm – 8pm
Cost $125 for groups of 5 – 8 persons
Individuals $150
Gummy Shark Charters – 6Hrs Groups @ 125 each
Individuals -$150
Also King Fish Charters departing from Sorrento or Stony Point. 8hr Charters
King George Whiting -5Hr Departing from Hastings $110 per person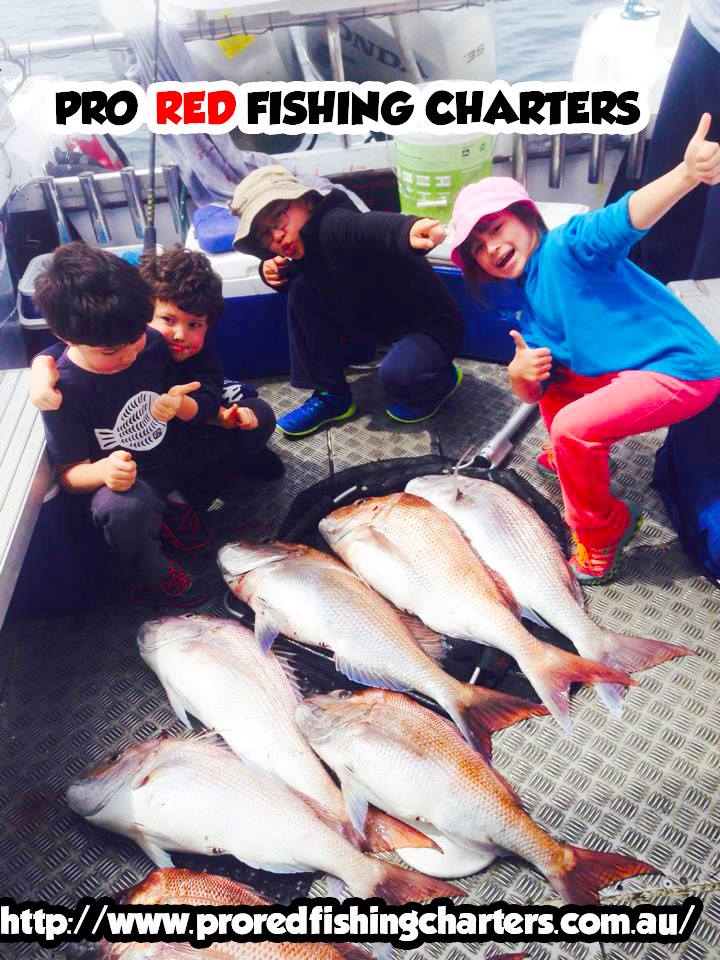 Instructions:
What to bring: Various departure points depending on Best chance s of Fish to be caught around Melbourne
What is included: All Bait and Tackle and berley. Fishing license required which can be purchased online through our website or at a local tackle shop. App clothing required

Pro Red Fishing Charters Melbourne
http://www.proredfishingcharters.com.au
Contact Email
[javascript protected email address]

Contact Number
0421442775
Contact Address
2 Launchingway Carrum
Departure Location
Carrum 3197