Baia Sportsfishing Lodge is located in West New Britain, Papua New Guinea and is home to world class Bass fishing and amazing ocean and river surrounded scenery. Our www.fishingcharterbase.com is an online fishing charter reservation website. Your fishing charter booking and contract is with Baia Sportsfishing Lodge and is secured with a deposit paid to them. However we understand that our customers may have general questions about fishing in PNG.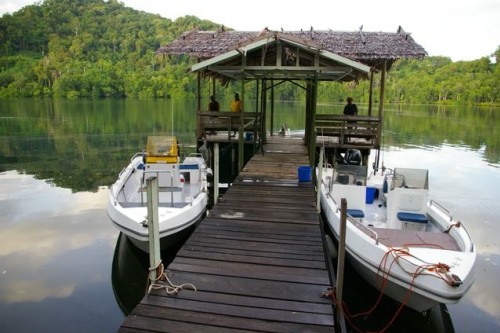 A fishing charter like this one is a once in a lifetime experience and for that reason, we have paid special attention to providing you with the internets most comprehensive information on Baia Sportsfishing Lodge. This page is written by one of our staff members that recently fished at Baia Sportsfishing Lodge in PNG. Further information on fishing in PNG can be obtained by calling www.fishingcharterbase.com on +61 (0)401660745.
Location
Baia Sportfishing Lodge is located in West New Britain, Papua New Guinea (PNG). Technically the lodge is in West New Britain however a closer look at the map shows it is only kilometres from East New Britain. The closest major town to the northeast is Rabaul, and to the southwest is Kimbe (the base point for your fishing adventure).
The owner
Baia Sportsfishing Lodge is owned and operated by Kimbe-based angler Riccard Reinmann. Riccard has achieved great success by developing a world-class and boutique recreational fishing operation while contributing to the local community through a range of projects. Riccard was educated in Australia and clearly understands the expectations of international recreational anglers.
Getting to Baia Sportsfishing Lodge
Your fishing charter commences with your pickup from Hoskins Airport near Kimbe in West New Britain, PNG (about a 1.5 hour flight from Port Moresbys Jacksons International Airport). The booking of all flights is your responsibility as they are not included in the fishing charter package. Flights from Sydney & Brisbane to Port Moresby can be booked online through Qantas (www.qantas.com.au) and their affiliate Air Nuigini (www.airnuigini.com.pg) or through Pacific Blue (www.pacificblue.com) or their affiliate Airlines PNG (www.airlinespng.com.pg). Both Air Nuigini and Airlines PNG operate flights to Kimbe from Port Moresby on a regular basis. The international and domestic airports in Port Moresby are located next to each other within under 5 minutes walk within the confines of the airport.
Target fish
The most popular target species for people visiting Baia Sportsfishing Lodge are PNG black bass and spot tail bass. The lodge is located less than an hours boat ride from the farthest of four river systems all containing both species of PNG bass. While the black bass are generally found at the river and creek mouths and up dark palm lined estuaries, the spot tail bass are more often located around rapidly moving water further upstream. Both species enjoy a word class reputation as fierce and unforgiving fighting fish. For that reason, choice of equipment and tackle is essential. It is not uncommon for both species of PNG bass to be caught in the 30-40lb range. The local guides are extremely experienced in helping identify the most likely fishing locations at which to hook a PNG bass. The most proven way of targeting PNG bass on these charters is with the long casting of
lures.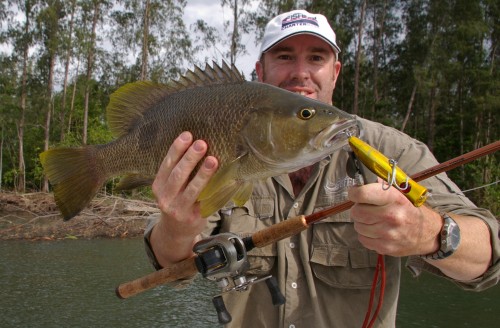 Other fish
Due to its location where rivers meet the ocean, Baia Sportsfishing Lodge provides a choice of both river and blue water angling. The ocean fronting Baia village and the region is home to a variety of tuna species including both yellowfin and skipjack tuna. Dolphin fish (mahi mahi), Spanish mackerel, barracouta, coral trout and all manner of reef fish are also common catches. The range of species on offer is extremely broad. The rivers surrounding Baia also house much more than PNG black and spot tail bass. These rivers regularly produce mangrove jack, trevally, sharks, tilapia (great live bait for PNG bass) and even the less popular catfish.
Recommended fishing equipment
The fishing guides at Baia Sportsfishing Lodge can provide you with fishing equipment suitable for both river and ocean fishing. However due to the remote nature of the lodge, it is recommended that you bring a good supply of your own lures, hooks, sinkers and spare line (including spare leader). For chasing the black and spot tail bass we recommend a bait caster outfit similar to the sort of barramundi outfit used on Australias impoundments. Our experience showed 30lb braid with 40-60lb leader on a one-piece Ian Miller rod with a Shimano Curado or Calcutta to be perfect. It is possible to chase PNG bass on lighter gear, however 30lb seems to be the most popular gauge. You may also wish to bring some 50lb and a heavier reel should you elect to chase bass using live bait. The strength and power of the PNG bass cannot be underestimated! When targeting the ocean species the standard overhead reel packed with 50lb line and a decent threadline rig for casting at schools of tuna is the perfect kit.
Recommended lures
When chasing PNG bass, most barramundi lures seem to work and it is recommended that rusty or second-class trebles be replaced with sharp and strong alternatives, for example Owners trebles. We found the most popular and productive method of targeting both species of PNG bass was using surface poppers, skidder pops and even fizzers. Again, we recommend you take a variety of sizes and colours with gold working well at sunrise and sunset, and the fluorescent colour poppers more suited to the dirtier water. For chasing the ocean species, we recommend taking anything silver for casting, and a selection of hard body lures for trolling at speeds of up to 8kn for mackerel. It may also pay to pack some 60-80lb steel leaders. When packing for this charter, we also recommend you consider a range of soft plastic lures. Mangrove jack are abundant in the rivers of Baia (with many in the 5-8kg range) as are trevally with both well suited to soft plastics in the 65-110mm size range. Our staff had great success on Squidgy Drop Bears, particularly the 65mm size.
Facilities at the lodge
The lodge itself is located on a small spit with views across the ocean, and access from the rear of the lodge where there is a small jetty at the mouth of a river. The lodge comfortably sleeps 12 people on a shared basis or less if individual/double rooms are sought. The highlight of the lodge is an open and comfortable dining/sitting area overlooking the ocean from the second storey. The local staff, many of who are employed from Baia village itself, prepare all meals. The range of food given the remoteness of the lodge, is incredible and of a high standard. Good use is made of fresh seafood that may include mackerel, tuna, coral trout, local clams, mangrove jack. Power at the lodge is via generator during the day, with room fans operating 24hrs through an inverter overnight. The rooms are equipped with Australian power points so camera batteries and other electronic items can be charged during the day. The lodge operates a well stocked bar with local PNG beer, a range of Australian wines, and half a dozen different spirits all available on a tab-based system. Bottled drinking water is also available for purchase and all fishing guides carry an adequate supply of free drinking water on board.
Fishing vessels
The fishing vessels at Baia Sportsfishing Lodge are custom built to suit both river and blue water fishing. The vessels are fibreglass with ample casting and storage room. They are equipped with Suzuki 115hp 4-stroke outboards and side-console steering. All fishing guides at Baia Sportsfishing Lodge carry personal EPIRBS and all other safety equipment.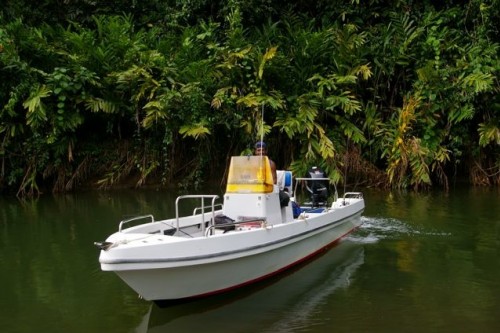 Other activities
While most people that visit Baia Sportsfishing Lodge do so as a fishing charter, the location of the lodge makes it perfect for a number of other activities. The guides at the lodge can arrange personal tours of the local Baia village, canoeing and snorkelling on reef rich waters in front of the lodge, and photographic tours beneath the still smouldering volcano called "The Father". The lodge itself has plenty of space in which to just relax and read a book or listen to music.
Recommended packing list
It is recommended that you consider taking the following items:
Light & comfortable fishing clothing
Digital or SLR camera and accessories
Mosquito & insect repellent
Light rain jacket
Hat & sunscreen
Personal snacks
Personal first aid kit
Anti malarial medication (ask your doctor)
Hard body & soft plastic lures
Spare monofilament or braided line Leader line (40-80lb)
Spare trebles & a pair of split ring pliers
Fishing rods & reels (as described)
Solid fishing rod tube for travel
PNG tourist visa
Useful tips
Snorkelling in front of the lodge is fantastic so take your own mask if you prefer not to use borrowed equipment (available from the lodge). If you like sashimi take a tube of wasabi sauce and some small packets of soy sauce in your tackle bag as there are plenty of tuna outside the lodge. Think about taking a waterproof bag or container to secure your camera, phone, ipod or other valuable in case of rain when fishing. Before the trip, practice casting a bait caster long distances as the fishing guides at Baia Sportsfishing Lodge recommend long casts when chasing PNG bass. While it pays to buy some local PNG currency before arriving in PNG (called PNG Kina), obtain most of your PNG Kina at the currency exchange within the international airport as you will get a much better rate in-country.
Inclusions
The Baia Sportsfishing Lodge fishing charter includes: Meet and greet at Hoskins Airport, PNG Transfers from Hoskins Airport, PNG to the Liamo Reef Resort in Kimbe 1 nights accommodation at the Liamo Reef Resort Transfers from the Liamo Reef Resort to Baia Sportsfishing Resort via vehicle and/or boat 4 nights accommodation at Baia Sportsfishing Lodge All meals Laundry Fishing vessel (number of anglers per vessel is dependant on the package purchased) Local fishing guide Fishing equipment (on a replace if lost or broken basis) Cultural tour (if requested) Snorkelling (if requested) Canoeing (if requested)
Price & Terms
The cost of this fishing charter is from AUD 3922 per person (3 anglers per boat, 6 nights/7 day including 4 nights at Baia at 2 nights at Liamo Beach Resort, Kimbe). The same tour with 2 anglers per boat is AUD 4158 per person. For 7 nights/8 days including 5 nights at Baia and 2 nights at Liamo Beach Resort the price is AUD 4813 per person for 3 anglers per boat, and AUD 5109 per person for 2 anglers per boat. Additional nights on both packages can be provided for AUD 715 per person per night. To secure your booking with Baia Sportsfishing Lodge, $1157 per person deposit is required to be paid on the booking date for the basic package (AUD 3922 per person for 3 anglers per boat, 6 nights/7 day including 4 nights at Baia at 2 nights at Liamo Beach Resort, Kimbe), followed by the balance is to be paid to your contracting charter operator, Baia Sportsfishing Lodge at least 6 weeks prior to the date your charter commences. Your fishing charter at Baia Sportsfishing Lodge represents a contract between you and Baia Sportsfishing Lodge as www.fishingcharterbase.com is an online fishing charter reservation website, not a service provider. BOOK NOW or request further general information by emailing clicking the "Contact Us" button below. Further information on fishing in PNG can be obtained by calling www.fishingcharterbase.com on +61 (0) 401660745 or from Australia 0401 660745. [map lat=-4.93772 lon=151.532 z=10 marker="yes"]

Contact Us [customcontact form=1]

Company

Located in West New Britain, Baia Sportsfishing Lodge is owned and operated by recreational angler and experienced tourism operator, Riccard Reinmann. The lodge itself is located next to Baia village not far from the border between PNGs West and East New Britain. Baia Sportsfishing Lodge offers a variety of angling and other adventure activities including estuary and river mouth fishing for Black Bass and Spot Tail Bass, deep sea fishing and snorkeling on a variety of pristine reefs. Baia Sportsfishing Lodge is dedicated to making your PNG angling and cultural experience a once in a lifetime adventure.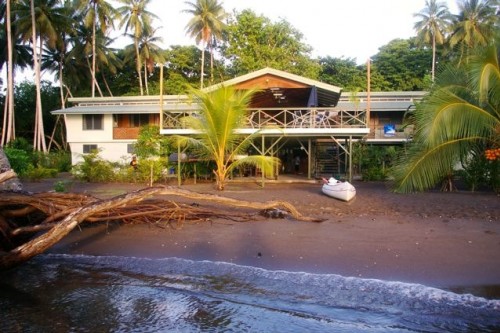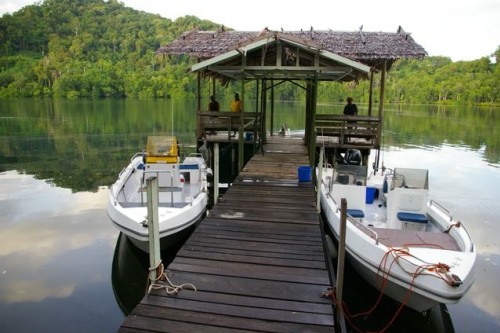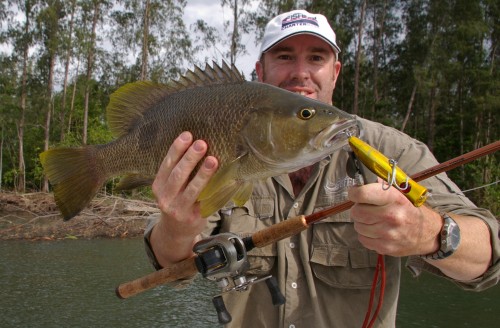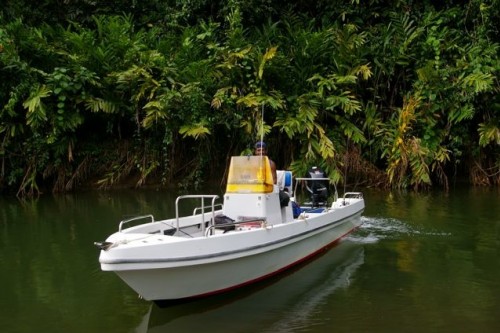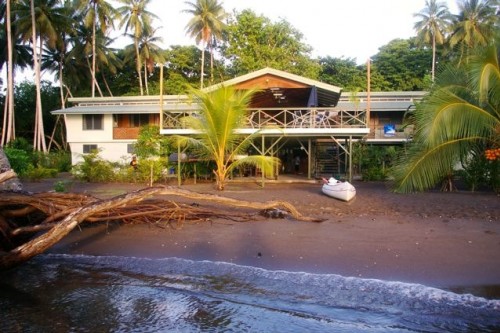 Instructions:

What to bring: This section has not been completed yet.

What is included: This section has not been completed yet.

Baia Sportsfishing Lodge (Bass Fishing Adventure)

Contact Email

[javascript protected email address]


Contact Number

0401660745

Contact Address

P.O. Box 195 Boroko, West New Britain Papua New Guinea

Departure Location

Papua New Guinea