Even after travelling and fishing in Africa and the Pacific, my favourite fishing is still chasing Barramundi in Australia's Top End. With only one week to take leave from work, I had to pick the time carefully. The aim – to travel to Darwin and fish for Barramundi, or Lates Calcarifer, at four different Northern Territory locations in the April "run-off season".
The run-off is prime time for chasing Barramundi as the floodplains drain dumping water and food into the main tributaries. The run-off is one of the reasons why world class fishing competitions like the Barra Classic, the Reel Women's Barra Classic, the Barra Bash and the world famous XXXX Gold Barra Nationals are held in April and May each year. Landing in Darwin I noticed a big difference since my last visit. The town centre had grown, fuel prices had gone up, and the number of recreational fishing boats around had probably tripled.
After a night's preparation at a mates place, it was time to hit our first location – the Mary River system and a place called Shady Camp. The shade at Shady Camp is in the name only and after a 3am Monday morning start, Jason and I navigated our way down to the mouth. With no lock at the mouth it was back up to the barrage where the salt water meets the fresh. What followed was Barramundi after Barramundi caught on small soft plastic lures.
Tuesday, and 3am seemed to be the starting trend. Down to the Daly River with mates Bernd and Peter and it wasn't long before we found the fish. Over two and a half days fishing and all on board caught plenty of Barramundi, my best a fit 82cm silver female caught on a single cast into a small movement of water well spotted and called by Peter.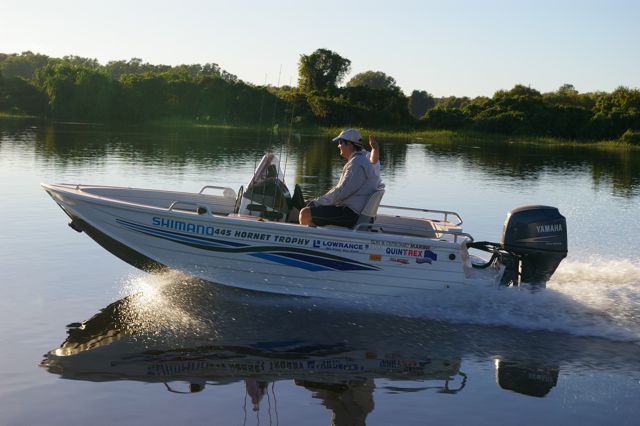 Friday, and it was off to the South Alligator River where more mates Shaun and Jason joined me to fish Nourlangi Creek. Yet again we had struck run-off gold and up one small creek, we landed 8 Barramundi with the biggest up to 63cm. We kept a couple for eating and headed back to our accommodation at the Aurora Hotel.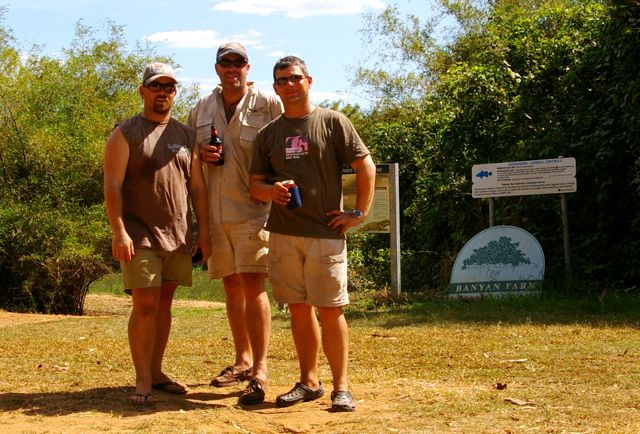 Sunday, and the last destination was Corroboree Billabong, a location I'd never really had any luck at. Only a short drive from Darwin, it wasn't long before Shawn, Bernd and I were amongst the Tarpon, Barramundi and Saratoga. I landed an 75cm Saratoga on a soft plastic lure dropped down between the lilies; these pre-historic fish are instinctive fighters and present the recreational angler with a lot of fun. Aside from the fishing, Corroboree Billabong is home to all manner of Australian wildlife from Jabiru birds through to large saltwater crocodiles. It is a truly beautiful place, and with that in mind, all but one of the fish we caught were quickly photographed then released to continue breeding.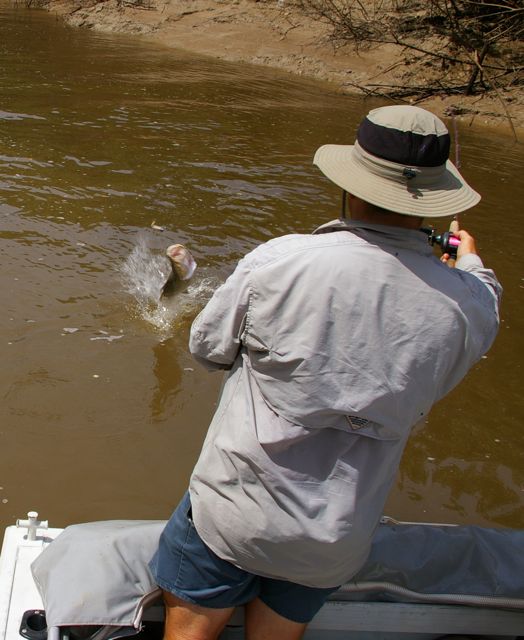 You often need a holiday after taking a fishing holiday, and that was certainly the case in this instance. With four locations covered in one week, this was a hardcore trip. I lost count of the number of Barramundi caught over the week, and for that reason, next run-off season I'll be heading back to Australia's Northern Territory to find some more flashes of silver.
Fishing Charter Base