Pelican Charters fishing or spear fishing Liveaboard boat charters to the Abrolhos islands every season April thru to the end of July to October at the Monte bello's
Minimum Passengers: 10
Maximum Passengers: 18
Departure Time: 5am
Return Time: 4pm
Charter Inclusions for a fee: Bring your own beverages
Charter Inclusions for free: Rods, bait & tackle,dive cylinders & air fills Great bunks and fresh meals
Company Information
Fishing trips Western Australia Pelican charters have two fine boats to AMSA latest standards, We pride ourselves with what our coral coast has to offer. Chartering 4 days to the Abrolhos islands and loving it, Advrnduring out for 5 days to The Montebello Islands for Extreme fishing holidays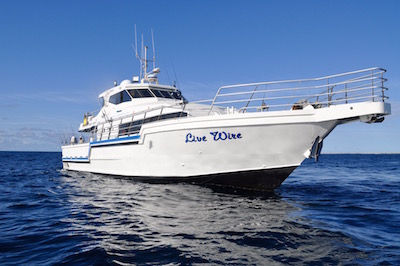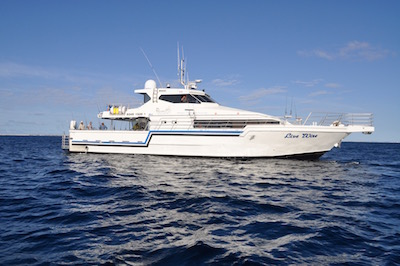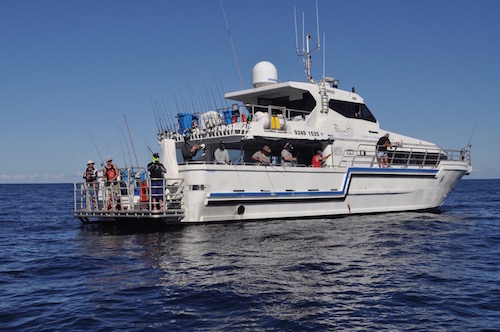 Instructions:
What to bring:
Pelican charters Trip Info & What to bring
Here is a list of things that you should keep in order for you convenience.
Sleeping bag or linen, blanket & your own pillow (Bunks are fitted with a sheet and pillow.)

Couple of clothes, bathers, Towel & toiletries

Drinks – beer, wine, spirits or soft drinks (We supply Eskys and Ice)

Snacks or nibbles (Afternoon snacks are supplied)

A rod or flick rod, jigs, lures (We supply rods, hooks and sinkers & bait)

Snorkeling gear
(We encourage spearfishing)

Dive equipment & cert card! (Check with us first if it's a fishing trip)

Esky to bring back your catch (No need for extra eskys on the boat)

Just Have a think! How much stuff do you really need ?
What is included:
For Any extra information, we are happy to talk with you, or arrange to meet with us, we love to show off Live-wire. My partner and I are owner operators, both are master fives and dive masters We are well established in the industry after 15 years of operating. We take pride in our vessel and our service
We provide solid meals, cooked breakfast, lunch and dinner, with seafood snacks in- between.
On-board alfresco kitchen with coffee machine, oven, Hotplate, Fridges, Freezers and eskys for your drinks
We have a dinning table with wrap around seating, Great atmosphere for evenings to relax. The boys can sit back watch the footy, with our satellite TV. Accommodation is comfy bunk style, away from the deck.
We supply all the fishing gear, Rods, tackle, sinkers and bait We also fillet then snap freeze your fish
Air fills and spare tanks are available for scuba diving, you must byo you own kit
A 5.5m center consoles are moored at the islands for little adventures.
Livewire has a large marlin board platform for trawling and night fishing Also has two motors, two gen-sets and two of everything, to ensure your safe journey.

Pelican Charters
http://www.pelicancharters.com.au
Contact Email
[javascript protected email address]

Contact Number
0892491535
Contact Address
Geraldton Harbour, Western Australia 6530
Departure Location
5/1 Rowe st Malga 6090