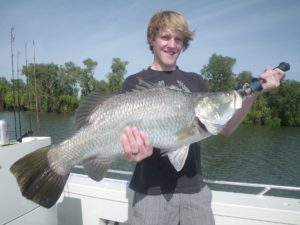 River and Reef Fishing Charters specialise in Barra Fishing Kakadu during the Run Off months and the Billabongs during teh dry season as well as Sport Fishig tours in and around Darwin Harbour
We aim to make you fishing experience and visit to the Nortehrn Territory one that you will talk about for year to come.
River & Reef are a Tourism Accredited Operator
The "Tick" demonstrates to you that the Northern Territory takes tourism seriously and is committed to continuous improvement in quality and innovation.When booking your next holiday in the Northern Territory, look for the 'tick'. This distinctive 'tick' logo displayed by accredited tourism businesses provides you with an assurance that the tourism business has a proven commitment to the highest quality of service. They've met specific criteria ensuring they are committed to exceeding your expectations with great customer service and the highest standards of business practice.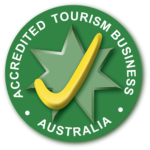 Accreditation will benefit you by providing you with a recognisable symbol of quality, allowing you to make better informed choices when selecting tourism products and services. Accreditation will give you comfort that your expectations of the tourism experience will be met and that you will receive value for money.
Instructions:
What to bring:
Wide brimmed hat
Cool light clothing, Long sleeves and pants are recommended
Polarized sunglasses
30+ sunscreen
Camera/Video Camera
What is included:
Transfers in air-conditioned four-wheel drive
All fishing gear supplied on a replace if lost or damaged basis
Morning Tea, Lunch
Water & Softdrink

River & Reef Fishing Charters
Contact Email
[javascript protected email address]

Contact Number
0889457686
Contact Address
PO Box 41984, CASUARINA NT 0811
Departure Location
0,0