PHONE: 0424 788 379 for more information
Anglers Advantage offer one of the best fishing charter experience in Darwin and on the Sunshine Coast. We offer a huge range of fishing options and you are assured of finding a fishing charter package that will match your needs. We operate in Darwin from March through until late October and then travel south to Queenslands Sunshine Coast where we operate during the wet season in Darwin (from November through until the end of February). We specialise in the offering individual tuition of Soft Plastics and Light Tackle Sports Fishing and we give you a personalised fishing experience.
The target species in Darwin are Barramundi, Threadfin Salmon, Queenfish, Longtail Tuna, Mack Tuna, Spanish Mackerel, Tarpon, Golden Snapper, Javelin Fish, Brown Mowong, Trevally, Bream and the Sunshine Coast species being Inshore-Jewfish, Trevally, Flathead, Bream, Whiting, and Offshore Longtail Tuna, Yellowfin Tuna, Mack Tuna, Spotted Mackerel, Spanish Mackerel.
Our fishing tours are conducted on board our custom modified Polycraft 4.8 Brumby, it is the best platform for estuary and close offshore fishing. In Darwin we work out of Darwin Harbour fishing the feeder creeks flicking lures among the Mangrove lined banks for Barrmundi, Mangrove Jacks and Threadfin Salmon whilst in the main harbour we target schools of Longtail Tunas, Trevallys, Queenfish and a range of Mackerels.
In Queensland we offer inshore guided tours including some sensational impoundment fishing, whilst our offshore soft plastics charters and light tackle spinning charters are not to be missed.
Vessel: BRUMBY
Target Species: Bream, Flathead, Whiting, Mangrove Jack, Jewfish, Trevally, Tuna, and Mackerel
Inclusions: Fishing Rod, Reels, Tackle, Drinking water
Things to Bring: Hat, Sunscreen, Long Sleeve Shirt, Food, Camera, Soft Drinks
Tour Packages and Prices
DARWIN
Target Species: Queenfish, Mackerel, Trevally, Tuna, Barramundi, Golden Snapper
Departure Area: Darwin Harbour
Full Day Trip
Half Day Morning Trip
Half Day Afternoon Trip
SUNSHINE COAST
Tour Destinations: Noosa River, Mooloolah River, Pumicestone Passage, Lake MacDonald and Maroochy River
Target Species: Spanish Mackerel, Spotted Mackerel, Mack Tuna, Longtail Tuna, Spangled Perch, Saratoga, Silver Perch, Golden Perch, Australian Bass, Mangrove Jack, Mulloway, Chopper Tailor, Tarpon, Trevally, Flathead and Bream
Full Day Estuary
Full Day Offshore
Half Day Morning Estuary
Half Day Morning Offshore
Half Day Afternoon Estuary
Half Day Afternoon Offshore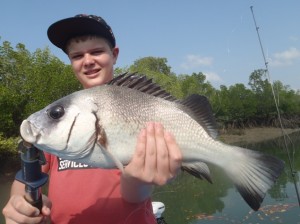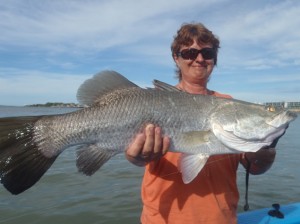 Company Information
Brian Readman has over 3 decades experience fishing both locally and internationally. He has fished in exotic locations chasing everything from Trout to Blue Marlin and Yellowfin Tuna. These places include the Mexican Baja Peninsula, Florida Keys, and Cape Town and Durban in South Africa. This experience has armed Brian with a wealth of knowledge and the list of species he has come up against is vast.
As an exceptional angler and mentor Brian will educate you in advanced fishing techniques in a relaxed and easy to follow manner. He is expert in the use of Soft Plastics and when it comes to Light Tackle Sports Fishing his wealth of knowledge is unbeatable. Heres your chance to learn the secrets to becoming a better angler from one of the best skippers around.
The vessel is a custom built 4.8 metre Polycraft BRUMBY powered by a 2008 Yamaha 80 horsepower four stroke outboard. The Brumby provides the client with maximum comfort and time to enjoy the activities that are scheduled on their fishing adventure. The front casting platform offers excellent visibility at the ideal height for long accurate casts. There is a large esky onboard to keep your catch fresh. To assist with stealth navigation the vessel has a Minn Kota 24v 80lb thrust electric motor operated by remote control for silent approaches among mangroves and sand flats.
Anglers Advantage tours are in high demand, avoid disappointment by booking in early.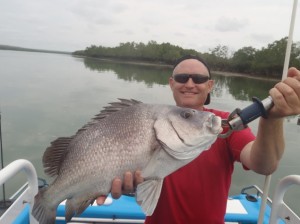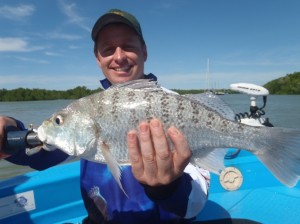 Instructions:
What to bring: This section has not been completed yet.
What is included: This section has not been completed yet.

Anglers Advantage
http://www.anglersadvantage.com.au
Contact Email
[javascript protected email address]

Contact Number
0424788379
Contact Address
20 Drysdale Street, Parap, Darwin, NT
Departure Location
-12.433265 130.845527