Flashes of silver fishing the run-off in a week.
 
After 3 years of working in countries of conflict including Pakistan, Afghanistan and Sri Lanka, all I wanted to do on recent return to Australia was head back to the NT and go Barramundi fishing.
Id lived in the NT for fours years during the end of the nineties and it was during that period that my passion for Barra fishing and general life in the NT was born. I landed in Darwin and was greeted by mates (with boats) and a clear blue sky buzzing with dragonflies, according to locals, nature's other way of marking the start of the dry season. Old wives tale or not, the dry and run-off had clearly commenced for 2008.



With more development, more people and obscene petrol prices, it was obvious that Darwin had significantly grown during my absence, but there was no time for site seeing as this trip was all about mates and fishing the run-off. My plan was to squeeze as much fishing and adventure into one week as is physically possible, and of course, to re-ignite that great feeling of hunting for Barra amidst the big waterways, crocs and territory wildlife so unique to this great southern land of ours.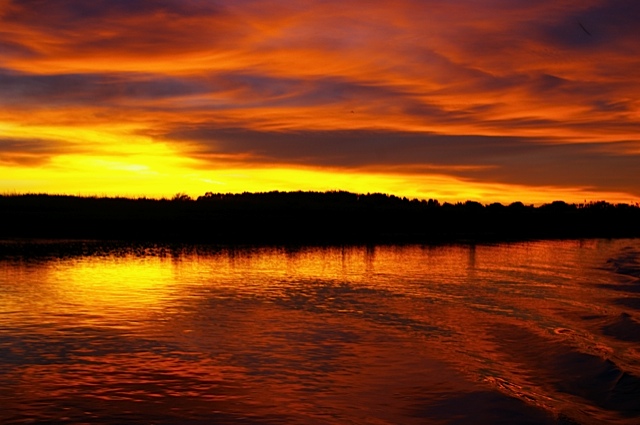 Monday morning, 3am and it was time to clock on to the fishing week. With my good mate Jason we headed down to the Mary River system to hit the mouth of Shady Camp. Launching on the run out tide at the barrage, some good navigation by Jason had us at the mouth without incident. The boat just in front of us was not so lucky and quickly found itself stuck on a mud bank not far from the barrage for the next eight hours.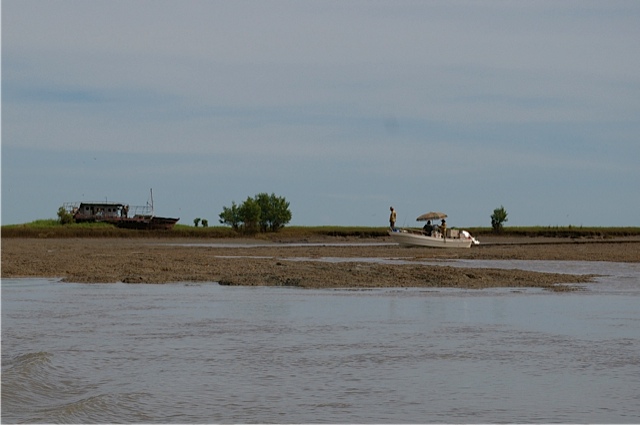 It was a harsh reminder of just how hardcore the NT river systems and tides are. There is more to catching Barra than dangling a line, the good fishos up here have all the navigational, survival and angling skills needed to succeed in the NT angling environment.
The river was pretty busy for a Monday with over fifteen boats, many fishing for Jewies. Either way it was great to be back on the NT water amongst the birdlife, big crocs and fish. After trolling the mouth for a couple of hours I was getting an itchy reel finger with not a touch to be had. With that, we headed back to the barrage and past the stranded boat as they eagerly awaited the incoming tide.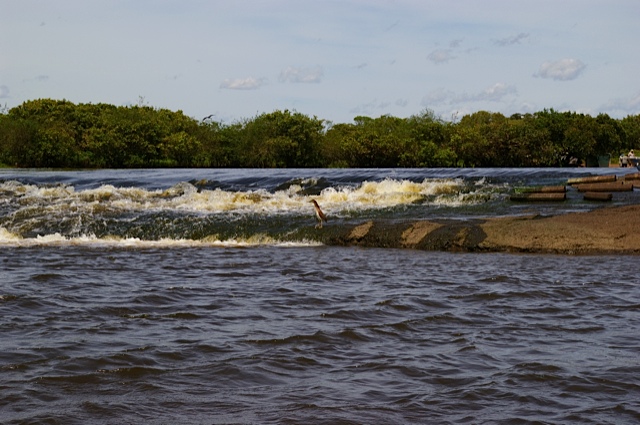 At the barrage I finally got that Barra feeling back again as we landed fish after fish on small soft plastics. Anchored up facing into the barrage, the water was awash with flashes of silver as Barra and Tarpon chased our lures right up to the boat. It was a great way to kick of a week of run-off fishing.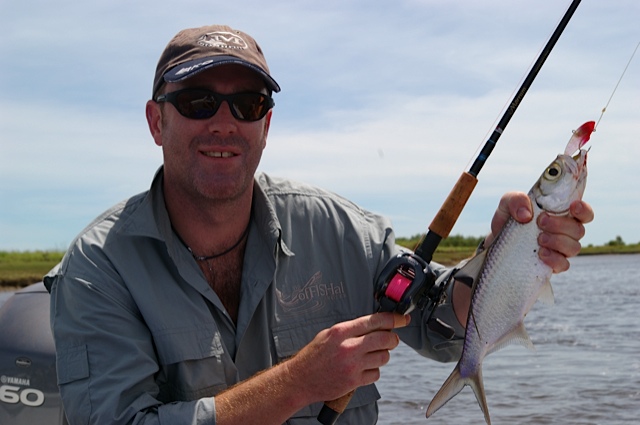 Tuesday morning 3am and I joined another two good mates, Bernd and Peter. Both are first class blokes and seasoned Barra anglers. Back on the road again with a bacon and egg roll at Berrimah and a few hours later, arrival at Banyan Farm on the mighty Daly River. This was to be my first trip up the Daly outside a Barra Nationals competition.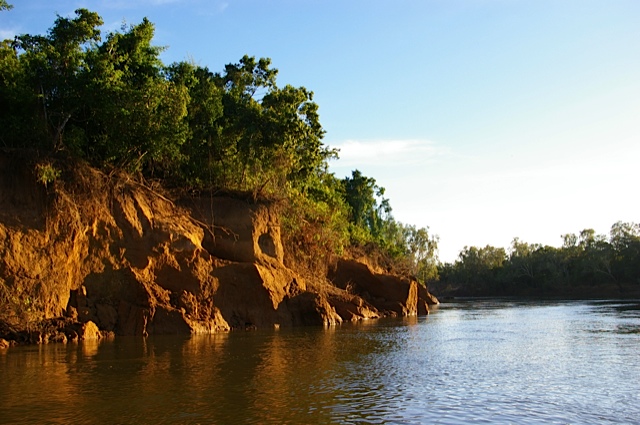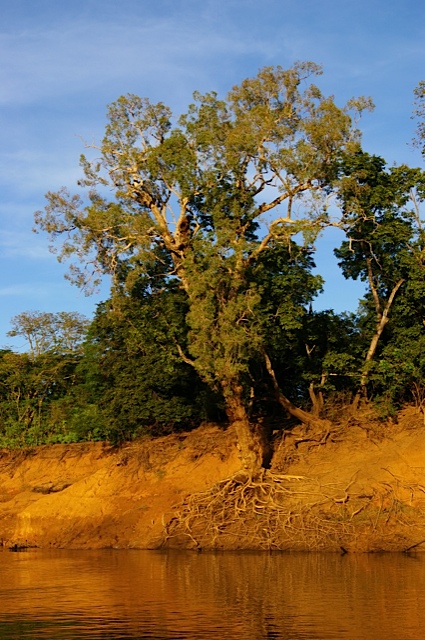 By all accounts, the Daly was going off but as we all know, somewhere amongst grapevine fishing reports, theories on the full moon and the latest lure fad lies the anglers dream to be at the right place, at the right time, and clean up.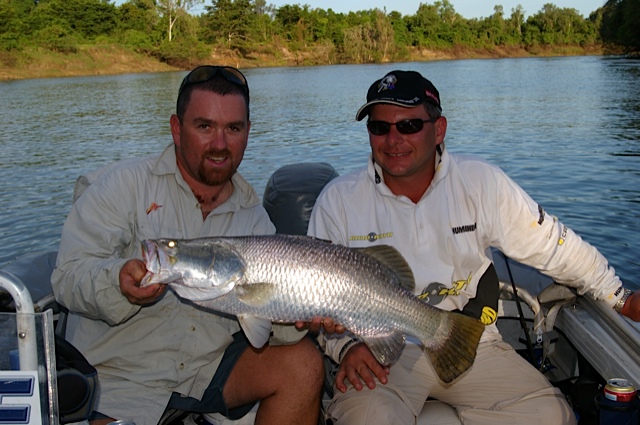 The river, as always was full of so much nature and wildlife being home to some of the largest crocs in the NT. A small three meter croc seemed quite happy for us to quietly photograph it in situ.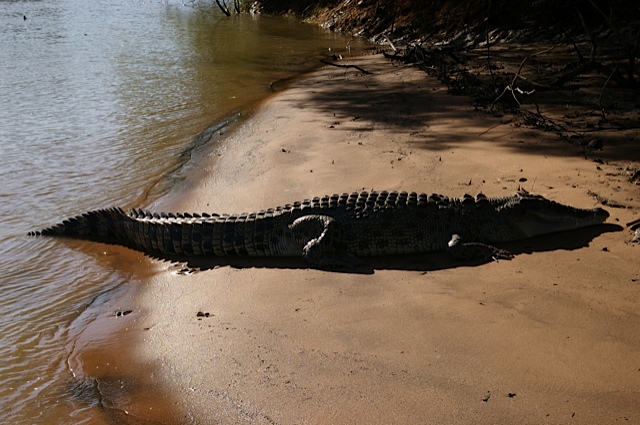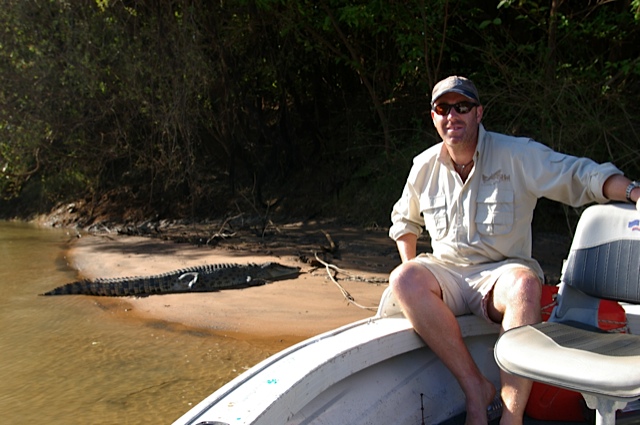 We fished hard for two and a half days and the river produced some great fish. The boys were quick to spot a couple of boofs alongside the famous S-bends and lucky for me, a quick cast into the bank with the trusty Barra Classic in Guns n Roses colour bagged a fit and silver 82cm Barra which was quickly photographed and released.


While a few of the creeks were starting to pump that sought after tea coloured water, it was Midden Creek that produced well over an hour of action with one of boys boating 7 Barra in under ten minutes on Drop Bear coloured soft plastics.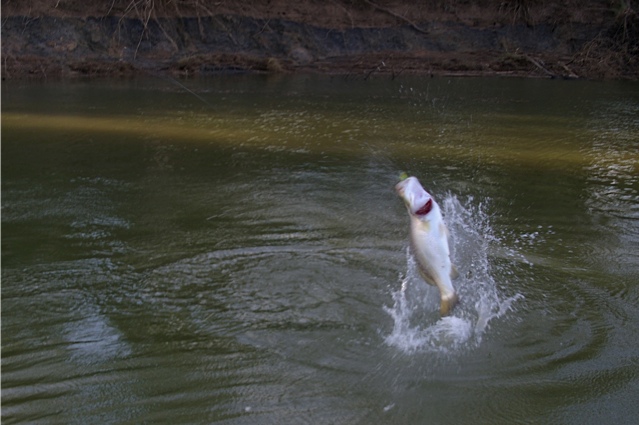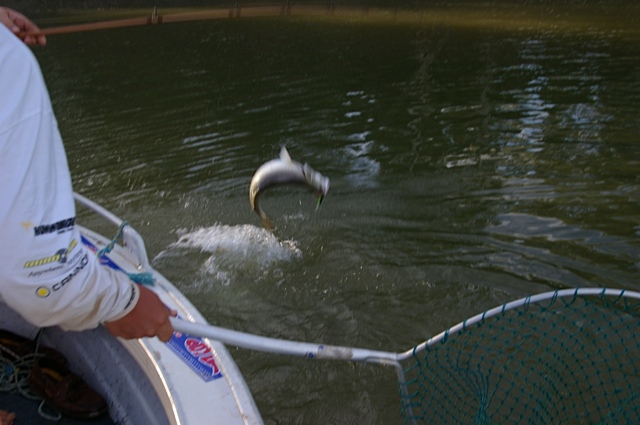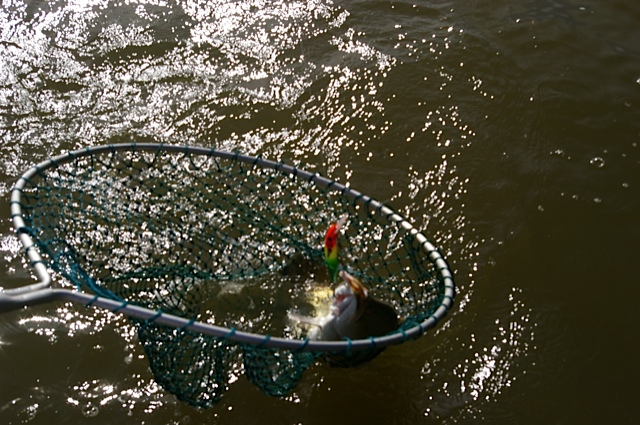 The two and a half days produced over seventeen Barra, a nice Threadfin Salmon which went well on the BBQ and a Barra smashed in half by a shark on retrieval.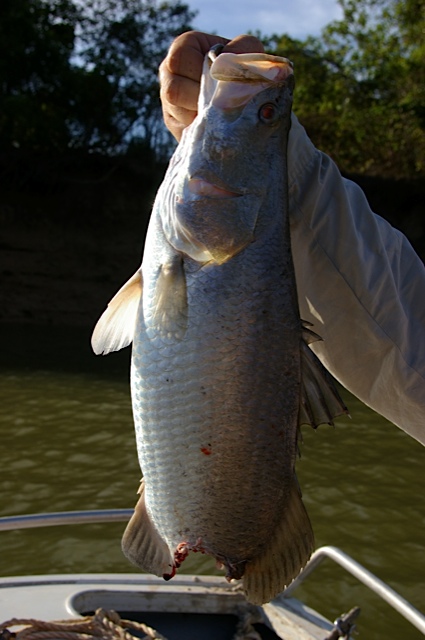 It also produced some night fishing up Tommys Creek, very few catfish (or Power Tails as they are apparently now referred to by people who also think mutton is the same as lamb), and a heap of laughs on the water.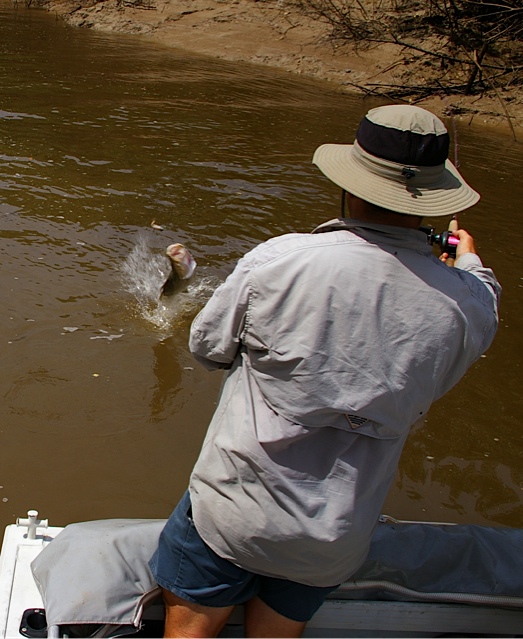 The accommodation at Banyan Farm was just right and the Daly River, well, in my humble opinion it is the perfect example of an all round Territory experience coupled with some of the best Barra fishing in the world.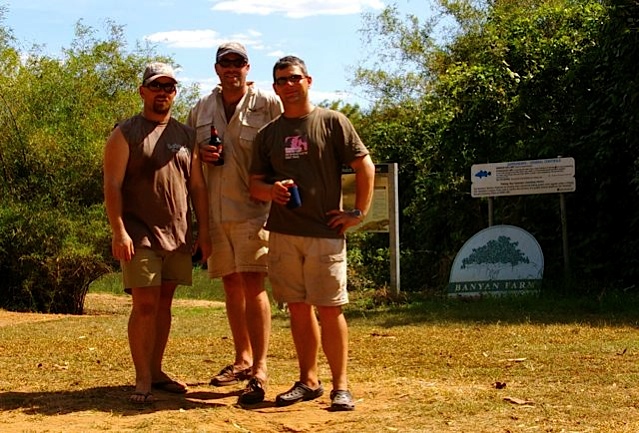 By Thursday Id boated a few dozen Barra, drunk a few dozen beers and clearly woken the Barra bug again. It had been a long few days down the Daly but there was no time for sleeping, after all, the run-off only happens once a year and I only had a week in the NT.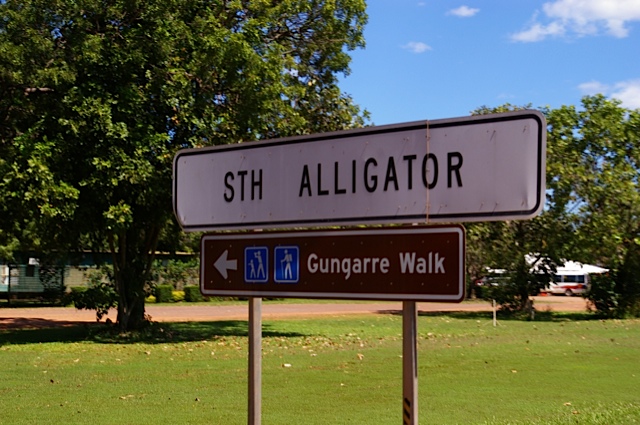 Friday it was off to the South Alligator River and by all reports, it too was going off. More mates, Shaun, Jason and Caitlyn and it was straight to the Aurora for a few beers, a game of pool and a decent sleep before hitting the South Alligator this was fishing gentlemans hours.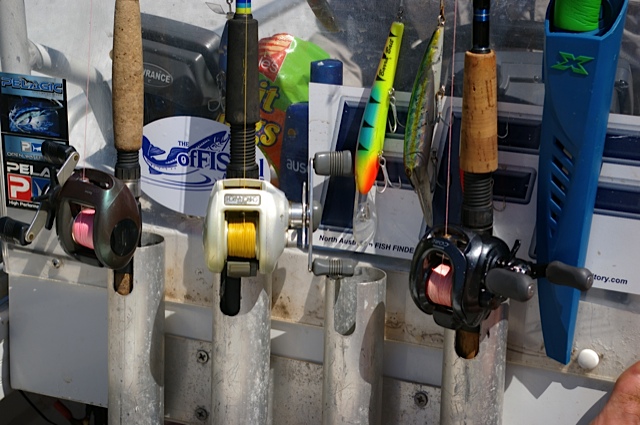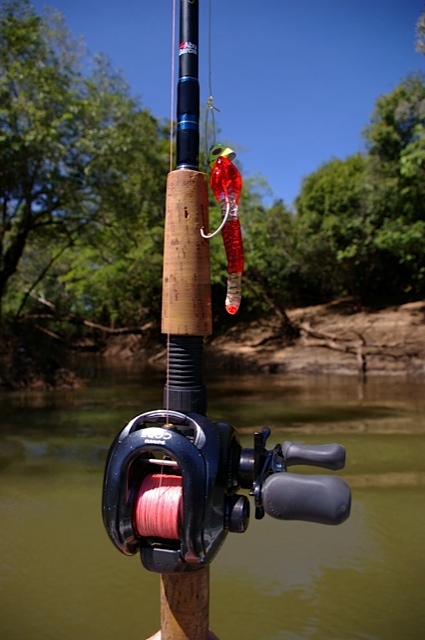 The bar at the Aurora sports a photo board showing those who have bagged a meter Barra in the region. Im yet to join that club, but it is top of my angling wish list. With photos of fish up to 136cm, you can guess what I dreamed of that night.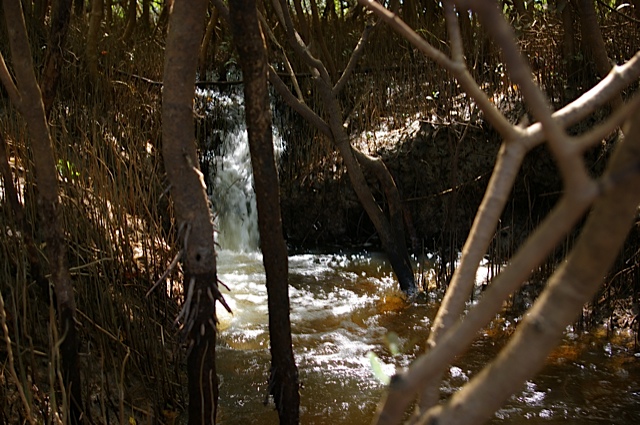 Saturday morning at the boat ramp and there must have been over forty boat trailers parked up. Id only fished the South once before so we headed up to Nourlangi Creek and to our surprise, there were very few boats up there. As the creek narrows, the snags tighten up and navigation becomes a little more interesting.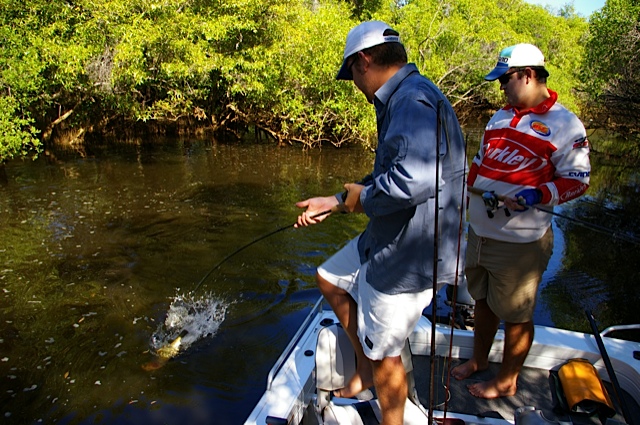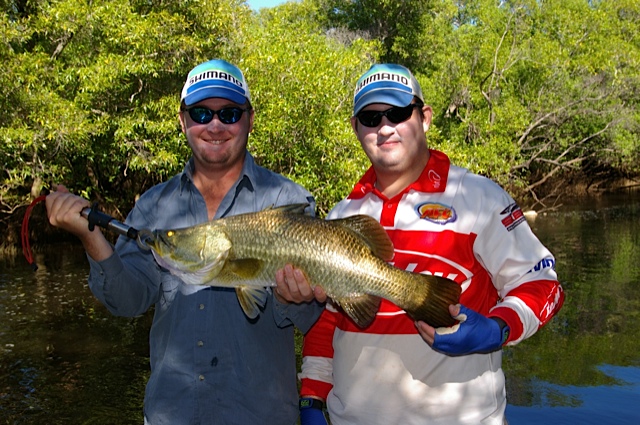 We pushed up as far as possible and found some text book run-offs this was why I came to the NT in April. As Jason slowly manipulated the narrowing creek I flicked a Drop Bear plastic at one of the run-offs and on the first cast, landed a hungry 63cm Barra. This was text book Barra fishing, and it seemed that this time, for once, the fish had also read the book. With no idea were the other thirty nine boats were, we anchored up in the shade and spent the next hour and a half landing legal sized fish after legal sized fish all on the soft plastics again. I swapped to a small sized Gold Bomber just to see how it went and with no hits, quickly changed back to the plastics.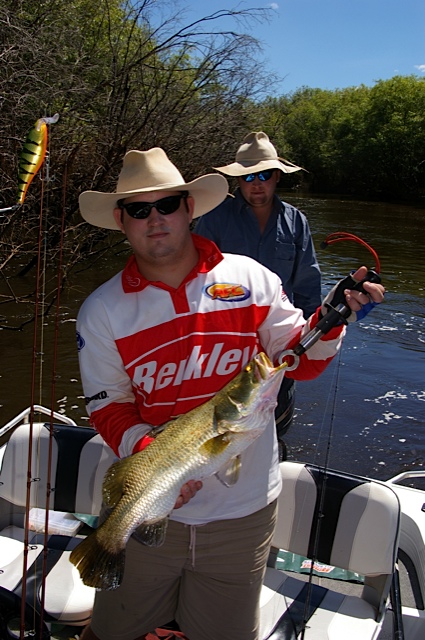 With 6 good sized Barra in the esky it was back to the ramp to clean up and off to the Aurora for a quick swim, beer and travel back to Darwin. The South had been good to us and provided one of the best soft plastic fishing sessions I can remember.
Sunday and it was the final day of the fishing week but far from a rest day. By 5am we were packed and ready to head to Corroboree Billabong with Shaun, Bernd, Shawn and Jason all the boys together for a final days fishing.
Id only ever fished Corroborree once and find it hard to believe I hadnt been there more often when living in Darwin given its absolute beauty, abundance of fish and relatively short travel time from Darwin. We hit the Billabong just on sunrise which probably explains why I forgot to turn the lights off on Shawns boat making the end of the day a little more interesting (sorry mate). According tot the boys the water was well up but before long we were landing plenty of small barra. Id forgotten how great the NT billabong bird life is but a hundred photos later it all came back to me. Crocs, jabirus, snakes, sea eagles all made the fishing experience that much better.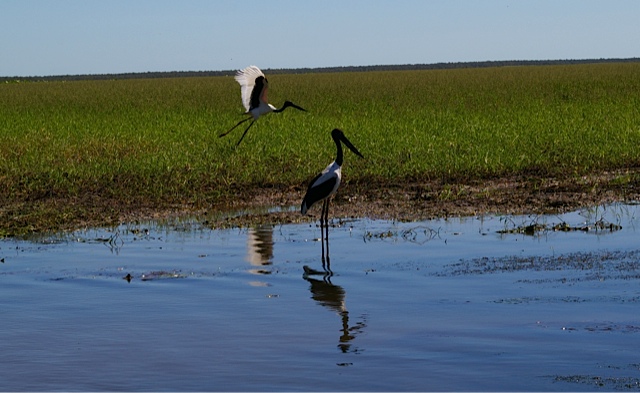 As afternoon approached wed had plenty of fishing action with Barra and Tarpon landed. As the dusk approached I managed a couple of big Saratoga floating light soft plastics down beside the lillys. These fish fight well and make for great angling fun despite the fact that they are not to be eaten.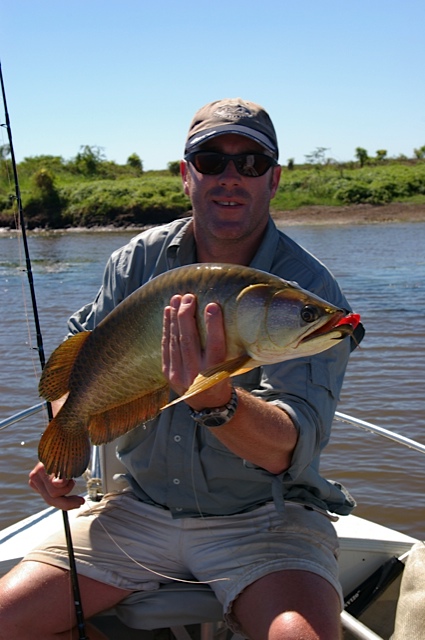 Back at the ramp I began to cop all the flack that goes with making a mistake on a fishing trip, but the battery was kindly charged and jump started by a local getting us back to Darwin at a reasonable hour. And so ended seven days of solid NT fishing having covered Shady Camp, the Daly River, South Alligator River and Corroboree Billabong in a week and scoring good fish at every location. The best for the week was the 82cm casting at the Daly River but the whole week was equally enjoyable.
 
Despite being away for a few years, the NT is still a wild frontier and the Barra fishing is still second to none. Thanks to some lifetime mates (with boats) and the small amount of local knowledge I managed to remember, run-off 2008 was a sensational experience and in the words of that well known movie characterIll be back for more of the same in 2009.