Archive for the 'Andys Blog' Category
This is a short clip from Episode 1 of OFFISHAL TV (In Search of Barra). In this episode I go heli-fishing in the Northern Territory, swim in the Cage of Death with a crocodile, fish for Saratoga and Barramundi, and see the sites of Darwin. This original underwater footage captures the Barramundi feeding in its natural environment. I took the footage with a Contour Roam HD camera, my camera of choice for all episodes of OFFISHAL TV. The camera was in the Contour underwater housing. The full version of OFFISHAL TV Episode 1 In (Search of Barra) will be released on YouTube on 25 September 2012. It contains more original footage taken with the Contour HD camera, including plenty of helicopter footage.
http://www.youtube.com/watch?v=JopcVB_ewak&feature=plcp
About Us page
Next year I plan on becoming the first white man to circumnavigate Samoa by kayak. In preparation for that journey, I recently entered the Samoa International Game Fishing Association's (SIFA) 2012 International Fishing Tournament and competed against the big game boats over 4 days on the water. During this time I went beyond the 1000 foot drop off in the Pacific Ocean on Samoa's north coast, was accompanied by dolphins, got caught in a huge storm, landed a 4.6kg Spanish Mackerel, sailed through all manner of sea states from glass to 5 foot swell, and although tiring, had an absolute adventure!
During the adventure I used a POV camera as a head cam, and a couple of Contour HD cameras as back-ups. At one stage in the movie I almost hooked a massive tuna from a cast, and all that footage was captured – it's an awesome sight. This was a great test for the kayak and the filming equipment, and there are a few modifications I'll be making before the big journey next year. I hope you enjoy this short production – I certainly enjoyed making it.

My Profile on Google+
In May 2012, The ofFISHal Angler became the first kayak to enter an international game fishing tournament. His 4 day adventure at sea was recorded using a series of high definition waterproof cameras mounted to the vessel and his head. On 1 July 2012, "The Samoa Kayak Adventure", a 19 minute documentary, will be released. Stay tuned.
After covering so many sea miles yesterday, today was pretty tough (sore hands, legs and back) and the lack of wind didn't help. I headed out to troll behind the reef and later in the morning managed to pick up a slight breeze.
After hitting the same Rapala lure (as caught the Spanish Mack yesterday) quite hard, I managed to land a beautiful coral trout. Although not a scoring fish for the competition, it was perfect for dinner, or at least it would have been had I not dropped it overboard along with the lip grips attached. That's fishing I guess…
Tomorrow is presentation day after which I'll post a wrap up if the entire competition, including photos of the winning team. Following that will be a compilation of 4 days head can footage.
Cheers for now.
The ofFISHal Angler
About Us page
Talofa (Samoan for the Aussie G'Day),
As I write this I've peddled (no wind again today) 25 nautical miles in search of a fish, and as I've done that 9 hours straight I'll give you all a quick summary form.
Caught a 4.63kg Spanish Mackerel this morning. It bent the Hobie rod holder flat but I had the reel in a safety strap so it was fine. Put up a great fight, put me to the test, and caught the lot on head cam to be included in the final wrap up.
Chased some birds after that and started casting at a decent lot of Tuna, with one great follow and a decent strike but no hook up.
Had 6 dolphins swimming across the bow which was absolutely sensational, particularly as I'd just weathered 2 hours of storm and couldn't see land for that time coupled with a 2 meter swell.
Two lost fish, unfortunately there was little wind again today which meant I had to rely on peddle power for most of the day, which is a realistic 3 knots. The slower speed definitely impacts on hook setting for pelagics.
A long day, 4 more Marlin caught and brought in for the big boys, a few more tagged. Tomorrow is a new day, and the final day of the tournament.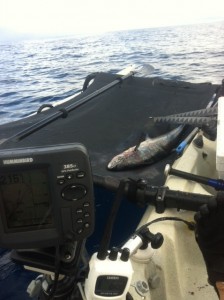 There is lots of interest in the kayak, and when I tell people I troll the 1000 foot drop off in the Pacific Ocean I get some pretty strange looks, and that's fine by me. I love this adventure, even if my hands now look like those if a 95 year old…
Cheers for now.
The ofFISHal Angler
Today was the traditional ladies time on the water, and with a 65kg Blue Marlin and a decent Masi-Masi the ladies sure turned it on. All teams were dressed in a variety of costumes and what started out as a rainy and stormy morning finished as another day in the sun.
Tomorrow the big competition continues with the third out of four days, and I've got a strategy which should (hopefully) lead me to landing a fish. The forecast is for mild winds, and that's all I need to avoid 9 hours of peddling and reach a decent troll speed.
Tonight at the weigh station waterside on Apia Harbour was another family friendly and pleasant night. The business end of the competition really starts tomorrow, and The ofFISHal Angler won't give up until at least one scoring fish is hauled aboard the Hobie Tandem Adventure Island.
Cheers for now.
The ofFISHal Angler
As Day 2 kicked off I managed to pick up a great breeze which took me under sail all the way to 5 mile reef. Yesterday that took me just under 2 hours to peddle. However unlike yesterday, there were no fish showing on the sounder so I decided to keep going beyond the 1000ft drop off, and ended up 25kms off the mainland in some of the deepest and bluest water I've ever seen.
The fishing today was tough, I saw plenty of bird and bait action, but the wind dropped off completely about 10am which meant I could only get 3 knots peddling speed, unfortunately not enough for pelagic trolling speed.
After 7 hours straight peddling, I did something a bit off centre, and set course for a brewing storm to catch the wind and cool off. An hour later I was legs crossed on the peddles, and lying back cruising a comfortable and cool 7 knots with three lines out on the troll.
Back at the club there was a heap of interest in the kayak, word is getting around now that some crazy Aussie is actually entered into the competition as a kayak.
At the weigh in, one boat brought home a 125kg Blue Marlin, a sensational catch. Others scored some big Masi-Masi and one boat landed a 65kg Yellowfin Tuna. For 33 boats (including the kayak), not a huge catch but definitley some huge game fish.
Tomorrow is ladies day, and that's great as my legs are very sore and some of the electronics and other gear on the kayak need some maintenance. Thursday we return, and my quest to land one decent fish that can be classed as a game fish, from the kayak, will resume….
Cheers for now.
The ofFISHal Angler
Day 1 and after the opening by the Prime Minister and a shot gun start, the weather was good to us today (well, at least to me given the restrictions on distance).
This morning I set out and reached the 1000 foot drop off due north of Apia fishing a few decent reefs along the way. Flying fish, sea turtles and air borne manta rays and mackerels were some of natures highlights.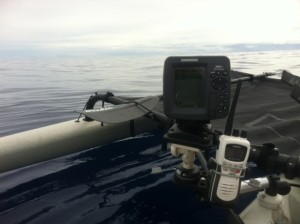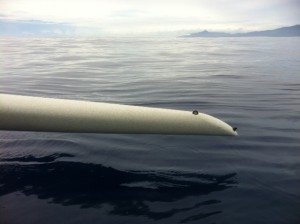 I returned to weigh in with nothing to offer, but had one huge hook-up at 11:42am on the edge of a reef (the reef came up to 80 foot).
As the Shimano Tiagra screemed, I lost the chance of setting the hooks by choosing to crawl to the bow and furl the sail first – lesson one, set the hooks first. This fish kept spooling 50lb mono and the proof is in the Rapala x-rap brand new last night and covered in tooth marks now, guessing a big Wahoo or Mack.
Weigh in for the big boys and the star was a 300lb+ Blue Marlin. Late afternoon and I copped the edge wind of a storm and clocked 10 knots on the Hobie and really enjoyed giving the legs a break after the glassy morning.
Covered 25kms today, found an awesome reef with fish all over the sounder, survived the first day and ready for tomorrow….
Pics and footage to follow in the next few days, and the return of the Hobie Adventure Island to the weigh station certainly turned a few heads – I'm pretty sure I'll get a good fish, but today I was reminded just how quickly the ocean can change. One minute I was eating lunch while sailing on glassy waters, and ten minutes later the swell picked up and 30 knot gusts appeared out of nowhere.
Cheers for now,
The ofFISHal Angler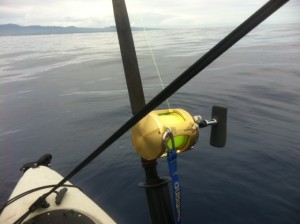 One of the hardest parts about leaving the Northern Territory in Australia and heading overseas to work for a few years, aside from leaving behind many mates, was selling the Barra Boat and knowing that I was heading to a place with no Barramundi – Samoa. However it didn't take long for me to realize that the absence of Barramundi would be well covered by the presence of Yellowfin Tuna, Mahi-Mahi and all manner of Billfish. As luck would have it, before leaving Australia I was introduced by a good mate, to the world of kayak fishing, and the start of a new adventure.
Before departing Australia I purchased the Hobie Mirage Adventure Island Tandem from Sunstate Hobie (www.sunstatehobie.com.au) on the Sunshine Coast. On the way through Victoria I dropped into Scot Lovig Hobie (www.slhobie.com.au) on the Mornington Peninsula and made some final equipment purchases. Samoa has never seen a Hobie Mirage Adventure Island Tandem, and already it has attracted lots of positive attention in a country where the outrigger canoe was invented long before the Hobie Mirage Adventure Island Tandem was ever dreamed about.
After importing and installing a Lowrance 385G Fish Finder/GPS combo hooked up to a sealed 12V rechargeable battery, the kayak was christened in the spirit of my old Barra Boat and named "The ofFISHal Angler". In my limited spare time, the goal over the next few years is to explore uncharted waters, fish side by side with the locals in their traditional outriggers, and ultimately, land a big Yellowfin Tuna, Mahi-Mahi or if I'm lucky, a Marlin from the Hobie Mirage Adventure Island Tandem.
Each trip I carry a JVC HD video camera, and the vessel is fitted with 2 x Contour HD video cameras – one mounted on the starboard aka (structure joining the outrigger to the main hull), and another mounted as a headcam on my Hobie Kayak Baseball Cap. The 2 x Contour HD video cameras are also equipped with underwater casings and this will enable some great underwater footage of the kayak, fish and any diving or snorkeling adventures.
As these adventures take place, I will continue to Blog on www.fishingcharerbase.com through a series of short YouTube movies. Some of the YouTubes will be specifically aimed at kayak enthusiasts in a more 'how to' manner, for example, 'How to install a Lowrance 385G Fish Finder/GPS combo, transducer and mounting bracket'  and 'How to make a garage ceiling pulley storage system for the Hobie Mirage Adventure Island Tandem'. These YouTubes won't all be about fishing, rather, they will take you on my Hobie Mirage Adventure Island Tandem journey…wherever that may take us.
Cheers for now,
Andy
(aka "The ofFISHal Angler")
Episode 4:

Episode 3:

Episode 2:

Episode 1: